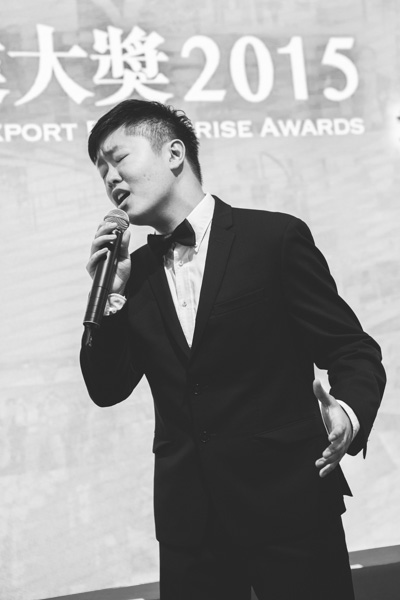 歌手
劉灝顯以最高榮譽畢業於美國波士頓栢克理音樂學院,並獲學校頒發栢克理成就獎學金完成音樂學士學位。在學期間,他隨聲樂系主任安妮·佩卡姆教授學習爵士及流行聲樂,並獲選參與環球學習計劃,到西班牙留學、交流及公開演出。
回港後,劉氏曾多次參與廣告製作的錄音部份,並擔任聲樂指導,其中包括萬寧、領匯、香港麥當勞及海洋公園等廣告。劉氏於2011年創立「香港合唱新力量」,並出任其音樂總監兼指揮。在他領導下,合唱團曾參與多次表演、慈善活動及國際性比賽,更於香港國際青少年合唱節先後兩度在男女混聲合唱組獲頒金獎。過去他亦曾擔任香港兒童合唱團男童聲小組指揮、聖保羅書院高級合唱團學生指揮及音樂聯會主席。
司儀
劉灝顯曾擔任香港電台電視節目《潮潮Y世代》及《讓夢飛起來》主持人。劉氏以最高榮譽畢業於美國波士頓栢克理音樂學院,憑著他的藝術背景,劉氏多次被邀請擔任大型音樂節的司儀,並主持開幕禮、酒會、音樂會及頒獎典禮等多個活動,當中包括:世界童聲合唱節、冬季管樂節、2015 世界青少年合唱節等。
Vocalists
KELVIN LAU graduated from Berklee College of Music, summa cum laude, in Boston, USA, where he was awarded the Berklee Achievement Scholarship to complete his undergraduate studies in jazz and contemporary singing. As one of the students selected for Berklee's Global Studies program, Kelvin studied and performed in Valencia, Spain.
As a versatile vocalist, Kelvin sings in many contemporary musical genres, such as pop, jazz, R&B and musical theatre. Kelvin participated in the recording of various TV commercial jingles as a singer and vocal coach, including the commercials for Mannings, McDonald's Hong Kong, Links and Ocean Park Hong Kong. In 2011, Kelvin founded the Hong Kong Virtuoso Chorus and has since been serving as its Music Director and Conductor. Under his baton, the chorus won the Gold Diploma twice in the category of Youth Choir, SATB voices in the Hong Kong International Youth and Children's Choir Festival. In the past, he also served as conductor in the Hong Kong Children's Choir Chamber Boys, and St. Paul's College Senior Choir.
MC
Kelvin Lau was a program host for two RTHK TV programs, Trendy Generation Y and Let Dreams Take Off. Graduated with highest distinction from Berklee College of Music, Lau's music background has made him a popular MC for large scale musical events. He was invited to host numerous music related opening ceremonies, receptions, concerts, and award ceremonies, including those of World Children's Choir Festival, Winter Band Festival and 2015 World Youth and Children's Choir Festival.